Dark Regions Press has put out an anthology of 1960's era cosmic horror, which features my latest offering, Five To One, a story about a student protest on the Miskatonic University campus that goes horribly awry.

I love these 'decade' books Brian Sammons and Glynn Owen Barrass put out (Atomic Age Cthulhu was the preceding book, and I think there are still rumblings about a 70's era antho if this one works out).
Other stories include –
Night Trippers by Lois H. Gresh
Operation Alice by Pete Rawlik
The Summer of Love by C.J. Henderson
Being for the Benefit of Mr. Sullivan by Lee Clarke Zumpe
Dreamland by David Dunwoody
Lost In the Poppy-Fields of Flesh by Konstantine Paradias
Keeping the Faith by Sam (Samantha) Stone
Mud Men by Sean Hoade
Misconception by Jamie D. Jenkins
No Colors Anymore by Joe L. Murr
Shimmer and Sway by Jayaprakash Satyamurthy
Short Wave by Stephen Mark Rainey
The Song that Crystal Sang by Tom Lynch
Through a Looking Glass Darkly by Glynn Owen Barrass and Brian M. Sammons
The Color from the Deep by William Meikle
The Long Fine Flash by Edward Morris
Just Another Afternoon in Arkham, Brought to You in Living Color by Mark McLaughlin and Michael Sheehan, Jr.
Crystal Blue Persuasion by Jeffrey Thomas
For Five To One, I knew right from the announcement that I wanted to do a student protest at MU, and tie in the Timothy Leary tune in drop out movement somehow. The turbulence spreading across American campuses in the 60's was surely a thing MU would have experienced, and Arkham as a college town felt like an angle I hadn't personally seen before.
I also played with the idea that a lot of the same family names would turn up again and again.
Here's the opening…..
The jeep squealed to a stop at the south end of the Miskatonic University campus, just ahead of the National Guardsmen of Battery B of the 101st Field Artilley.
Lt. John Iwanicki watched the column of inky smoke rising from the west half of the quad.
He had done all he could to get away from Arkham, from a drunken, brutal father. Now here he was, back again, about to march on his old alma matter.
Iwanicki shaved twelve men off to hold back the pressing crowd gathered there so the rest of the men could pass through. It was a mix of camera-faced press and rubberneckers, with some campus administrators and students.
Past the dormitories and athletic fields the campus dipped into a grassy, tree-lined depression in which Armitage Commons was centrally located, with the administration building and lecture halls to the north, and various specialty buildings clustered all around. Down the hill, across the quad and to the west, the brick ROTC building was awash in streaming flame. The crowd of students held back a respective distance around the old bronze statue of Professor Armitage. A team of Arkham firefighters were bustling about their engine, attacking the fire with a deluge cannon to little effect.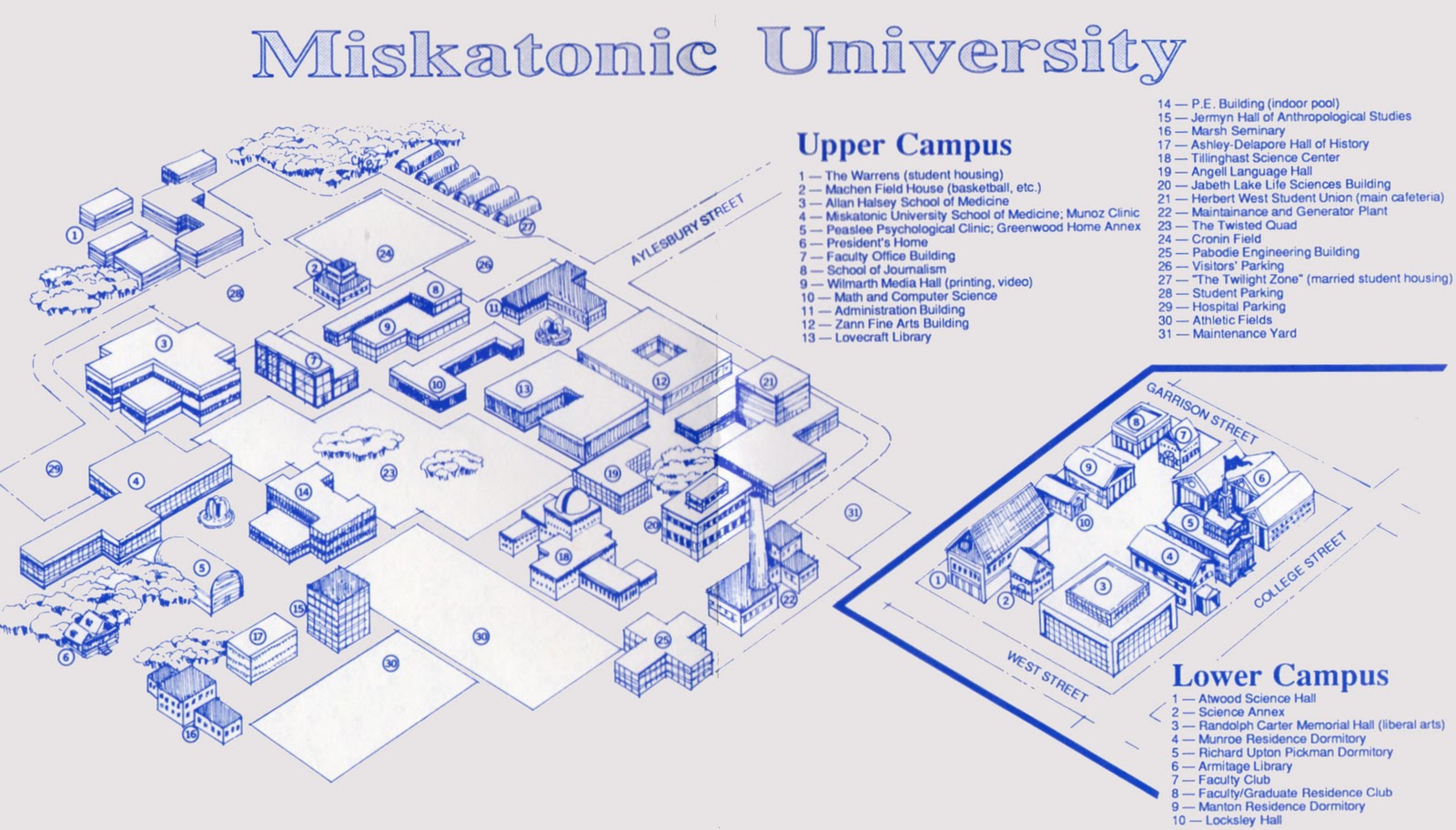 "Goddammit, the little shits used napalm," Sgt. Pasternack said, snorting the air. "I can smell it. Don't those dumbass yokels know water ain't gonna put it out?"
Pasternack was a veteran of Korea who'd done two tours in Vietnam and then entered the Guard when a leg wound had kept him from re-upping for active duty again. He spent all his off time cussing at the rec room television. When the priests who had marched into the draft office in Catonsville and burned all the draft cards had been on the news last May, the MP's had had to stop him from taking his .45 to the TV. He was a crew-cut John Wayne type, only a few outbursts shy of a Section 8.
Despite his leg, Pasternack scooped up his M1 and vaulted out of the jeep before it had completely stopped. He tucked the strap of his campaign hat under his boxy jaw and barked for the men to form up, pointing to the burning outbuilding and the multicolored cluster of young protestors. Orders were to make a buffer between the students and the firefighters.
Captain Bishop had issued twenty M-79 grenade launchers, and Iwanicki noticed Sgt. Pasternack pulling the men carrying those aside and forming a separate column to the right with a few riflemen.
He got out of the jeep and went over.
"What's this, Sergeant?" he demanded.
"Just getting a jump on the secondary objective, El-tee," he said.
"What secondary objective?"
"Once the fire's out, the Captain's gonna order us to kick those pinkos off campus. If we send the main body down," he said, slashing a knife hand toward the flaming building, "we can maneuver a line of bloopers behind them up Garrison Street and down Church, using those trees and buildings as cover. We'll have 'em on two sides that way, and when the time comes, we can drive 'em right back the way we came."
There was no denying it was a solid plan, but Iwanicki didn't fully trust Pasternack to initiate the push without busting heads. He was here to kick hippie ass. When they'd gotten Governor Sargent's call last night he'd practically run ahead of the convoy all the way from Danvers.
About five hundred students had walked out of class onto the MU quad yesterday afternoon waving the Youth International Party flag. The leader of the local Yippie movement, an Economics major named Daniel Elwood, had read a prepared speech condemning the Defense Department's announcement that 24,000 troops were being recalled to Vietnam for involuntary second tours. They'd held a funeral for a copy of the Bill Of Rights and marched with the document pinned on a makeshift bier down to the Miskatonic River, burned it on the shore, and scattered the ashes.
Just Yippie posturing, really. They'd sung a few songs and dispersed to the local bars.
The trouble had started when drunk students and, Iwanicki thought quite possibly, a good deal of out of towners in for the protest, had stumbled out of the taverns and begun breaking shop windows and flinging beer bottles at squad cars.
The local police found themselves overwhelmed pretty quickly. The mayor had gotten the Governor on the line, and he had called them in to quell the whole shebang.
Of course Captain Bishop was back at the temporary command center at St. Stanislaus Church, ostensibly holding two squads in reserve to help the Arkham Police keep order in the town and to jump in if thing's got hairy. He was a Cambridge-taught REMF, the son of the mayor of Deans Corners and a cunning draft dodger who wanted no part of this hornet's nest, particularly with all the media attention.
Iwanicki was standing there with his hands on his belt looking down through the bare cherry trees at the crowd chanting "Pigs off campus" down on the Commons where he'd spent many lunch hours reading, when, as if out of memory, a familiar figure came rushing across the field with one of the men, Private Carter, in tow and looking flustered as the older man repeatedly slapped his hand away from his elbow.
The man was in his late sixties and dressed accordingly, with a long, aged face. Wisps of cobweb white hair clung to his balding head. He smiled a broad set of too-uniform teeth and held up one liver spotted hand.
Iwanicki found himself smiling too, for the man was his old psychology professor, 'Old Wing' Peaslee.
"John Iwanicki, is that you?" he called, slapping Private Carter's hand away yet again.
"What the fuck is this, Carter?" Pasternack growled, taking a step forward to intercept the spry old man. "Can't you keep an old man behind a goddamned line?"
"I'm sorry sir, he…."
"I was insistent," Peaslee finished for the blushing young man. "Please excuse me. I recognized an old student and I just had to say hello."
Pasternack reached out and grabbed the old man by his scarf, but he shrugged out of it with a mumbled 'thank you,' and put his hand out to Iwanicki, as he came on.
Peaslee had been a bit of an eccentric, known to go off on wild, sometimes strange tangents in his lectures, but he had always found the old man fascinating even in his most rambling pontifications. He had been friendly with Iwanicki's Uncle Jim, the pastor at St. Stanislaus who had practically raised him after his father had stumbled out one morning and drowned himself in the Miskatonic. Peaslee and his uncle had been chess rivals, and his recommendation on Iwanicki's application had gone a long way towards convincing Admissions to overlook his financial hardship.
"Hello, Professor," Iwanicki smiled, taking the old man's hand as Pasternack flung the scarf down in the grass and scowled behind his back. "I'm half surprised you're not down there with the Yippies," he said, nodding over his shoulder at the crowd singing down on the Commons.
"It's them I'd like to speak with you about, if you can spare the time. I tried to see your commanding officer but was turned away."
Sgt. Pasternack insinuated himself, cradling his M1.
"Lieutenant should I remove this civilian?" It was more of a suggestion than a query.
Maybe the presence of his old professor bolstered his confidence.
"No, Sergeant. Just wait over there a bit."
"That fire crew's looking kind of anxious, sir," Pasternack insisted, not budging.
"You're right," he said. "I'll tell you what. Take the men down there as we discussed. I want all weapons locked. Treat this like a peaceful demonstration, nothing to get excited about. Pass the word down the line."
"Sir?"
"You said yourself the fire crew isn't going to put out a napalm blaze the way they're going. I want you down there advising them," he said, squaring his shoulders at Pasternack. "Understood?"
"Yes sir," Pasternack said, pursing his lips and looking like he'd like to take a bite out of his nose.
He wheeled and stabbed a finger at Carter.
"Get your ass in gear, Private."
Iwanicki watched Pasternack holler orders at the men, and pretty soon they were marching down the hill through the rustling autumn leaves toward the fire.
The twenty men with grenade launchers watched them go, fidgeting.
"Listen, Professor," Iwanicki said. "If you're here to impress caution on me, believe me, I'm doing all I can."
"I'm afraid it's graver than that, John. Do you know who's behind all this unrest?"
"Yeah, the administrators gave my CO a name. Elwood. Some student activist."
"Mr. Elwood has organized much of the peaceful arm of the demonstrations, it's true, but neither he nor any of his followers had anything to do with setting fire to the ROTC building."
"Who did?"
"Have you ever heard of Traxton Olney?"
Iwanicki had read all about Olney in Time magazine. He had been a psychiatric researcher for the Kaiser Family Foundation and had spent a few years abroad in Cambodia, doing field work with some kind of entheogenic substance used in ritual worship by an obscure hill tribe; an hallucinogenic compound called Liao, which he claimed was more potent than LSD. Upon returning to the US he had worked under Timothy Leary at Harvard as part of their Psylocibin Project, but after falling out, he'd struck out on his own, championing the benefits of Liao over acid.
He had overseen a series of rehabilitation experiments with Liao on Arkham Sanitarium patients and achieved a good deal of success and attention in 1960 when he wrote a book called The New Lotus Eaters: Adventures In Supernautical Exploration, detailing his own use of the drug. He'd been in a tent at the big hippie gathering at Golden Gate Park in San Francisco, hosting Liao 'in-peditions.'
"Sure," said Iwanicki. "The Liao guy. Wasn't he lecturing here at MU a while back?"
"He was," said Peaslee, his tone and demeanor darkening noticeably. "Just after you graduated in '65. He was apprehended by campus security trying to abscond with a rare volume from the library's reference collection and dismissed. He took some of his followers among the staff and student body and formed a kind of neo-pagan group. They set themselves up in a commune at a certain cottage overlooking Olney's native Kingsport. They call themselves NASA. Nedon's Astral and Supernautics Amalgam."
"Nee-don?"
"Olney claims it's the name of their spiritual guide."
"So what does Olney have to do with all this?" he asked impatiently.
Over Peaslee's shoulder, he saw the line of soldiers tramping down to the fire, helmets and muzzles bobbing. The students were recoiling as though they were one organism reacting to the introduction of a foreign virus.
"While he was employed here, Olney professed some rather radical notions," Peaslee said. "He believes in sharing the dreams of the Black Lotus with mankind whether they are receptive to it or no. During one of his lectures he exposed his students to Liao fumes to observe the results. Thankfully none of the class pressed charges. Most wound up joining him."
"You said you knew who started the fire," said Iwanicki. "Are you saying it was Olney?"
"I saw him myself early this morning, along with some of his followers, loitering about the quad, very near the ROTC building before it caught fire."
"You're sure?"
"Yes," said Peaslee. "I saw him clearly from the window of my office. By the time I came downstairs, the fire had already started. I have no doubt it is a distraction, meant to keep your soldiers occupied."
"What do you think he intends?"
——————————–
Pick it up on Amazon or here from Dark Regions Press.