Everybody's making a list of top movie watches for 2018 and I'm no different!
In no particular order –
Bandersnatch – Netflix's UK technophobia show produced this dizzying concept: a self aware choose your own adventure movie you operate via your remote control, about a young computer game programmer in the 1980s spiraling deeper and deeper into a philosophical labyrinth as he works on an adaptation of a science fiction novel called Bandersnatch.  This technology had so far been relegated to Scooby Doo cartoons and extras on my kids' DVD's, but this is a monumental, groundbreaking accomplishment that had me chuckling (try going down the path where you explain to the character he's in a Netflix movie), sometimes nervously. It took me back to the books and games of my youth – Zork and Infidel and Microsoft Adventure, but has a dark underpinning that almost makes you look over your shoulder and wonder at your own choices.


Hereditary – A stark, absorbing family tragedy that takes a dark, occult turn. This is the first time in my life I've ever squinted at a movie screen and checked my aisle to see if I'd inconvenience anybody if I got up and walked out. The last fifteen minutes are absolutely terrifying. Toni Collette turns in an Oscar-worthy performance.

The Clovehitch Killer – A boy suspects his scout leader father may be a notorious serial killer. Charlie Plummer gives a terrific performance as the son, but the standout is Dad, played by Dylan McDermott. Top drawer suspense thriller.


The Ballad of Buster Scruggs – The Cohen Brothers' Netflix western anthology is a masterpiece that starts off with a bang as Tim Blake Nelson plays the titular character, an ingenious cross between Roy Rogers and The Man With No Name, and gets into increasingly more somber territory as it goes along, with fantastic showings by Tom Waits and Brendan Gleeson along the way.


Spider-Man Into The Spiderverse – A glorious, high art masterwork of animation, a direct descendant of early NYC street art, hip hop, and comic books that's entertaining to boot and features one of the year's most vibrant soundtracks.
Blindspotting – At times hilarious and harrowing drama from Daveed Diggs and Rafael Callas about two childhood friends in Oakland, one white, one black, one of whom witnesses a policeman shooting an unarmed black man. A fantastic meditation on perception and identity, and one of the most empathetic portrayals of the fear of police I've ever seen. The scene where Diggs walks alone on a dark street with a searchlight playing on his back is one of the most suspenseful things I saw this year.
Eighth Grade – Heartbreaking and ultimately uplifting coming of age story about a girl transitioning from middle school to high school in the age of social media, agonizing over every selfie and post, rehearsing every single interaction in her desperation to make some kind of impression on the people around her.  Brilliant movie.
Solo – If you skipped out on this after the lackluster Disney 'episodes,' you missed one of the most enjoyable adventure movies of the year, and the finest Star Wars film since the originals. Alden Ehreinreich is honestly a better Han Solo than Ford (who admit it, gave one and a half great performances and phoned it on on two more – he just didn't enjoy the character).  Plenty of eye-popping set pieces and a few genuinely affecting nostalgic moments. Great score, and great supporting cast. Marred just a bit by the surprise cameo at the end (shoulda been Jabba).

Black KkKlansman – John David Washington and Adam Driver together make a great Klansman, tangling with the Hidden Empire and pulling David Duke's chain as FBI agents at the height of the black/white power movement. Spike Lee directed one of the most timely and prescient movies of his career in this direct critique of our troubled times.


Deadpool 2 – Much funnier than the last outing, possibly because of the welcome interplay between DP and Rob Liefeld's illustrious 'pantheon.' Zazie Beets' Domino is a highlight. Surprisingly more heart than I expected. Maybe I'm just a softy for Cher.


Mandy – Panos Cosmatos, who so impressed me with Beyond The Black Rainbow, returned with the most visually insane movie of the year, and coaxed another great performance from one of my favorite actors, Nick Cage, in a movie ostensibly about a man seeking revenge for the murder of his wife by a Helter Skelter-style cult.
Revenge – Bloodsoaked, gonzo survival thriller about a wealthy man's mistress brutalized by his pals and left for dead out in the desert who returns to wreak havoc on them. One of the craziest, tensest climax sequences I've seen in years.
Won't You Be My Neighbor? – Moving, intimate documentary about the man who saved public television and was surrogate father to a generation of TV watching kids – including yours truly. Faith affirming, and ultimately sad, given Rogers' bafflement and self-doubt at the state of the world at the time of his passing.
Sicario: Day of The Soldado – Benicio Del Toro's shadowy south of the border operative returns, pulling a kind of Mexican Lone Wolf and Cub as he escorts a cartel leader's daughter. Great follow up, and I can't wait to see the next one.

Stephanie – A young girl left alone in her house with the corpse of her elder brother hides from a mysterious threat. Then her mother and father come home. A neat little surprise monster movie.


Await Further Instructions – UK horror movie about a xenophobic family trapped in their house on Christmas by strange black chords encircling their house. Their television gives them increasingly strange instructions from the purported authorities. Sort of a cross between Videodrome and Compliance.

Castle of Blood – Antonio Margheriti and Sergio Corbucci's 1964 haunted house movie was my top watch of Halloween, a sumptuous, effective little movie about a skeptic who takes a bet from Edgar Allen Poe to spend the night in a haunted house and starts interacting with a slew of the place's previous occupants.
Batman Ninja – My other favorite animated movie of 2018. Batman follows his villains through time and space into feudal Japan. This ferally inventive, hyperkinetic melange may seem a bit light on logic, but visually, it's a thrilling work of art blending various anime styles. A celebration of both anime and Batman. A fascinating look at how an American icon passes through another culture's lens.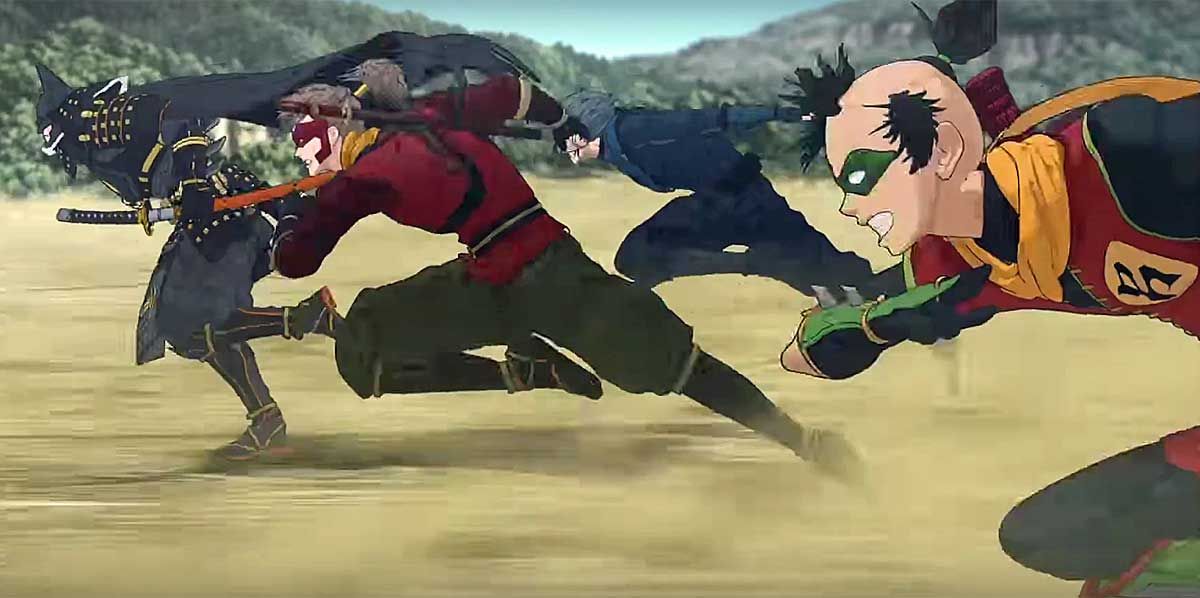 What I intended to see but missed: First Reformed, Superfly, Woman Walks Ahead, Christopher Robin, The Meg, Patti Cake$, A Prayer Before Dawn, White Boy Rick, The House With A Clock In Its Walls, The Sisters Brothers, Farenheit 11/9, Suspiria, Overlord, Widows, Thoroughbreds, The House That Jack Built, Climax.