Last year due to a Halloween cruise I fell a couple movies short of my 31 first time watch horror marathon, so we'll see if I make the grade this time out. Again, no predetermined list, just watching whatever I can get my hands on.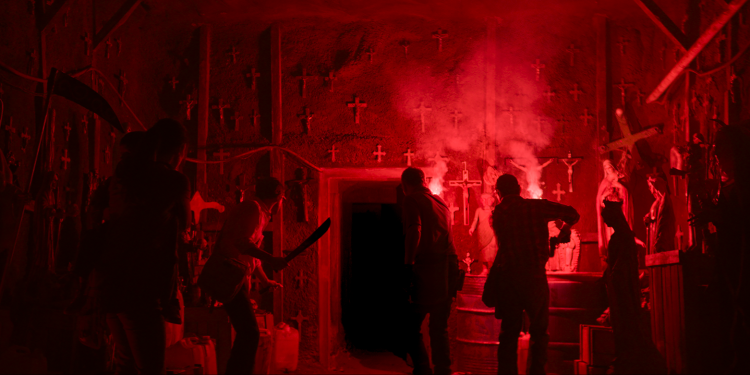 #1 Belzebuth – Years after a Mexican policeman's baby becomes one of several infant victims horrifically murdered in a hospital nursery by a crazed attendant, he is teamed with a US federal agent to investigate a series of attacks on school children around the Mexican border.  This started as a really intriguing concept, a murder investigation that gradually uncovers an occult conspiracy, but eventually all but abandoned its unique Mexican-Catholic viewpoint in favor of a staid, by-the-numbers good vs. evil/exorcism plot. One really kind of silly and poorly realized digital effect (please guys, just don't do 'em) about midway through the movie in an abandoned church and it pretty much lost me. Joaquin Cosio (the odious General Madrano in Quantum of Solace) gives a great performance, and there's a really interesting political angle that gets briefly touched on but thrown out right away. In the end, it just goes on too long.
#2 Tigers Are Not Afraid (Veulven) – When 11 year old Estrella's school is caught in the crossfire between rival Mexican drug cartels, her teacher gives her three pieces of chalk, each imbued with a magic wish. After her mother is abducted by the cartel, she wishes to find her, and is inextricably drawn to a group of orphaned boys whose own fates are similarly linked to the violent gang. This was a haunting, lyrical ghost story, a dark fantasy superbly realized, which doubles as a sobering look at the lives of the children left behind in the wake of narco violence in Mexico. It made me think of Dante's quote; "I found the original of my hell to be in the world which we inhabit."
#3 Count Dracula (1977) This BBC miniseries does a lot with its 70s television constraints, establishing an appealingly dark mood while eschewing the expected Hammer horror look. It cleaves pretty closely to the novel with a few minor alterations in place and character (Quincey P. Morris and Arthur Holmwood become Quincey P. Holmwood, Mina and Lucy are actual sisters) that don't upset the story. The camera and practical FX are pretty well done (Dracula's influence is depicted by a superimposition of his red eyed face in negative. I liked that, and I applaud their daring in not skipping the wall crawling scene – the result is pretty creepy!), but the performances are the biggest draw. Jourdan is a pretty great Dracula, and Frank Finlay is probably one of my top three Van Helsings now, up there with Anthony Hopkins and Peter Cushing. It was neat to see the lovely Judi Bowker of Clash of The Titans again, and Jack Shepherd is a great Renfield. I have to single out Richard Barnes' Quincey P. Holmwood though; his Texas accent doesn't fare very well unfortunately.

#4 Are We Not Cats – Hard to talk about this one without giving it away. No spoilers. An aimless, chemical addled young man has a torrid impromptu encounter with a quirky musician whose compulsive fetish endangers her life. Kind of a romantic body horror picture, the central kink of this story elicited in me one of the strongest, repulsed emotional reactions I've had watching a movie since that one notorious scene in Pink Flamingos. I literally exclaimed aloud in my empty apartment. And yet, it's not really a repulsive or exploitative movie. In fact, it's a very well done slice of life. A fringe life to be sure, but in the end it actually has a pretty tenderhearted, positive message; that there may be someone for even the most isolated of us. As a side note, among a host of fully realized side characters, the excited Dr. Mooney played by Thoedore Bouloukos made me laugh out loud as his reaction to the events probably mirrored my own (and, I suspect some audience members).  The closing stinger image was equally hilarious. This was kind of a fun gem, all in all. Long after seeing it, I can't stop thinking about it.

#5 Beast – An unbalanced young woman living in a rural English island community under the thumb of her domineering upper class family falls hard for a mysterious poacher who may be responsible for a series of murder/rape abductions occurring in the area. Jessie Buckley does great work here as a woman whose rebelliousness against her miserable family may be getting the better of her common sense. Maybe. Compelling, twisty little thriller, if not overly memorable in the end.

#6 Knife+Heart – A producer of gay porn films in 1979 Paris must deduce the identity of a masked killer stalking and murdering her performers, even as his crimes inspire her work. Yann Gonzalez perfectly captures the 70's Italian giallo style, from its striking color palettes and compositions, to its excruciating kills and bizarre final reel plot twist. Rather than being a simple homage, the movie still manages to compel, and even at times, move the emotions. Great cast, lots of weirdo humor and memorable characters (A loveable, chubby fluffer named The Mouth of Gold was a crack up). Evocative musical scoring. Worth a watch.
#7 A Tale of Two Sisters – Inspired by a Korean folktale, a young woman returns from an extended stay in a mental institution to live in a big dark house with her distant father, beloved younger sister, and estranged stepmother. It's apparent early on that some unspoken family trauma has occurred as the main character begins to experience horrific visions. This drips with commendably executed gothic mood. I guessed early on that the movie was telling one of two 'twist' stories. It turned out I was wrong; it was telling them both, and I feel that in doing that, it overextended itself. The result was kind of confusing and unfocused, unfortunately.

#8 One Cut of The Dead – In this comedy, a film crew sets out to make a low budget zombie movie and is set upon by actual zombies. The first twenty five to thirty minutes of this is kind of a sloppy low budget mess full of weird little inexplicable character choices, and had me checking the time (though I do believe it was all shot in one take, which is always an impressive achievement). Be advised that at that thirty minute mark it takes a really unique turn and becomes one of the most enjoyable watches I've had this season. I was smiling for the remainder of the run time. If you have any love for indie filmmaking or low budget horror in particular, you'll get a kick out of it. Just stick with it.
#9 The Curse of La Llorona – A court-ordered social worker recommends the separation of a Mexican woman from her two children and unleashes the wrath of the titular folklore legend, a phantom woman who once drowned her own children and whose arrival is preceded by her ghostly sobbing. It's pretty by the numbers jump scares. That doesn't make it a bad movie, necessarily, just not a great one. The biggest surprise for me was that it apparently takes place in the Annabelle horror universe. I did like the curandero character (I'm a sucker for Van Helsing types) and the mythology invented to combat La Llorona (including wind chimes to alert you of her appearance!). It reminded me of Curt Siodmak's contributions to werewolf lore, and I wonder if they'll catch on in the oncoming years.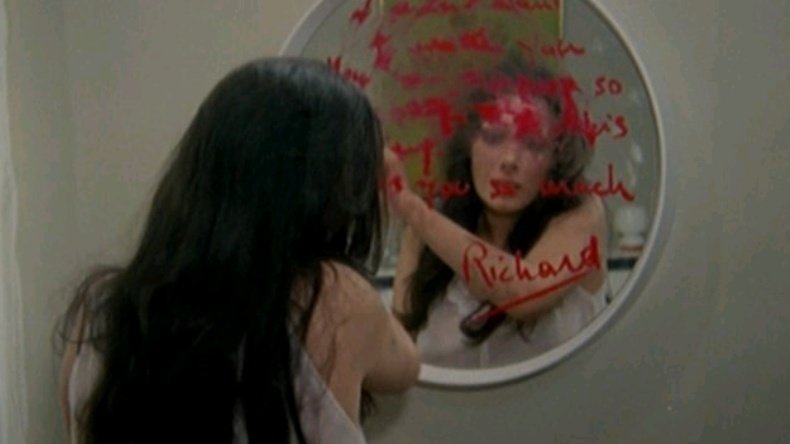 #10  – All The Colors Of The Dark – A woman flees a menacing blue-eyed stranger straight into the arms of a Satanic cult. She begins to question her sanity, as I questioned how I managed to sit through this underwhelming (though admittedly well shot) giallo to the end.
#11 – Ma – A group of teenagers avail themselves of a middle aged woman's hospitality (and basement) to hold a bevy of underage drinking extravaganzas, blissfully unaware that she has a dark ulterior motive. I'm glad I was never so absolutely desperate to drink before I was eighteen to throw all common sense out the window when I was a kid. Seriously, these are some oblivious kids. This was an interesting, skeevy watch for the first half, but takes a sudden turn that isn't quite warranted in the script about midway through, and never really rights itself. Most characters continually make inexplicable actions (returning to party again and again in the face of their patroness' increasingly erratic behavior), while others just kind of drop out of the picture. Octavia Spencer is always watchable and manages to keep this flick afloat, but only just.
#12 – Don't Leave Home – An artist's exhibit exploring mysterious disappearances receives a crushing review, but she's invited by an ex-priest and his wife to stay in their palatial Irish estate while he cuts a check for one of her works, a diorama depicting the vanishing of a young girl he bore witness to decades ago. She starts seeing a hooded figure around the place at night, and weird shenanigans happen. Unique supernatural occurrence, but I was bored by the end.
#13 Brightburn – An awkward, outcast ten year old kid living on a farm in Kansas begins exhibiting superhuman talents, and soon learns the truth of his parentage; that he fell to earth in a spacecraft. With increasingly sociopathic fury, he begins flexing his newfound powers against the peers who have rejected him and eventually the adults who seek to control him. Basically, this is what would happen if Superboy went bad, and the end result is a very watchable horror movie with predictable, but entertaining results. Jackson Dunn really sells the flat affect of a sociopathic kid, and Elizabeth Banks does a great job as his self-delusional adopted mother. My one gripe; as my wife's a family therapist, I know the aunt would never be assigned as the kid's school therapist. They'd send him to somebody out of district. Still a fun watch.
#14 – Return of The Blind Dead – Tombs Of The Blind Dead was one of my top watches last year. The blind undead Templars return in the sequel, with some nifty sequences like an all-out attack on a raucous rural folk festival, the memorable fake out killing of an idiot lookout, and the requisite hunting of a terrified family by sound, but nothing quite tops that train sequence from its predecessor. There's a bit too much dumb humor in this one too. Feels like a Godzilla movie cutting away to humans nobody really cares about. I did like the bit where the woman tried to escape on the stolen Templar horse. Worth a watch, but not as good as the original.
#15 – In The Tall Grass – A brother and his pregnant sister stop near a roadside chapel and answer the cries for help of a boy coming from a field of surrounding tall grass, only to find themselves lost in a time and space warping purgatory with a few other misplaced souls. An OK time waster, but nothing too memorable.
#16 – Room For Rent – A lonesome, elderly widow opens up a room in her house as a BNB to pay off her late husband's debts and becomes infatuated with her tenant. This is a low budget endeavor that suffers from a pretty bad, inexplicable secondary character's moral choice about midway through that really seems to exist solely to move the plot along, and the total abandonment of the tenant's plot line (I really feel like there has to be a lot of excised footage concerning the contents of his trunk and the nature of his phone calls). And yet, the whole production is buoyed by winsome lead Lin Shaye's stellar performance. I genuinely felt for the character of Joyce, a lonely hearted woman just out of a loveless marriage and desperate for affection and companionship. Shaye really makes Joyce breathe and that makes this worthwhile viewing.
#17 – The Lift – I occasionally develop an unabashed, inexplicable, unironic love for some inarguably bad movies (Night Of The Lepus, Gymkata, The Green Hornet). This preposterous Dutch film about a murderous elevator and the heroic repairman trying to stop its killing spree played dead serious is now one of them. FOR GOD'S SAKE, TAKE THE STAIRS!
#18 Black Moon – An executive sends his hilariously loyal secretary Fay Wray to accompany his wife Dorothy Burgess and curly headed little daughter back to her family's old Haiti-adjacent island plantation house, where Burgess' fixation on the local Voodoo cult which murdered her parents in front of her as a girl start to reawaken with disastrous results. This is an odd one, a pre-code Voodoo horror movie without any mention of zombies. Here, the monsters are basically the local natives, half-wild savages beholden to an unexplained need for regular sacrificial rituals (cause that's what they do in Voodoo, don't cha ya know?) and apparently unable to function without the leadership of their high priest or priestess. Twice a character blows away the officiant of a massive congregation of perhaps a hundred fervent worshipers and never once do they react in any way. Blacks have no agency in this movie. They react to the doings of the white characters, and you get the sense (with perhaps the exception of Clarence Muse, playing a 'loyal' and a least partially fleshed out black man from Georgia) that they just stand around like dolls waiting to be played with when there are no white people in the room. There is a great deal of white xenophobia and racism obfuscating what could be a decent story about the assumption of cultural identity by outsiders with just a little more effort and research somewhere in here, but it's difficult to relate to the privileged, pompous main characters, who display all the depth of a patronizing bumper sticker on your racist uncle's truck for much of the movie. Some surprising twists, good acting, and striking cinematography, but leave the 21st century at the door if you sit down to watch. We're talking blackface here.