It's the 80th birthday of Batman and the 1000th issue of Detective Comics!
I grew up watching the campy Batman of Adam West and the Super Friends who guest starred on Scooby Doo once in awhile. I didn't really get into the serious iteration until The Dark Knight Returns and later, the seminal Batman The Animated Series.
One thing I've always felt about Batman….OK, I love his rogue's gallery. It's the best bunch of nemeses in comics. Only Spider-Man's comes close.
They're so great that, for me anyway, Batman himself has kinda paled in comparison in terms of interest.  Of course they don't exist without him. He's the linchpin that brings them together. But I've always been a bit bored of billionaire playboy Bruce Wayne and his nocturnal, perennial one-upper persona (at least, as he seems to be portrayed in the last decade or so).
So I got to talking about this just for fun with my buddy Elliott McMillan – how could one make Bruce Wayne more interesting?
We live in an age of instant gratification and internet pseudo-celebrity. People can make a living and get famous opening boxes of toys on Youtube or 'influencing' a bevvy of followers into buying some company's latest shoe or scent, or scented shoe, whatever. Thousands of people can be herded to a remote island and fleeced without facilities simply because a model pursed her lips on a beach.
Now the original inspiration for Bruce Wayne/Batman and Lamont Cranston/The Shadow and a bevy of other moonlighting capitalists has always been  the 1919 All-Pulp serialized adventure novel The Curse of Capistrano, later republished in the 20s under its more well-known name, The Mark of Zorro. I'm sure there have been other characters, but Zorro/Don Diego Vega is Batman's direct literary ancestor.

The central and enduring conceit of the playboy turned masked vigilante was that Don Diego was something of a fop. Watch The Mark of Zorro with Tyrone Power.  Don Diego is a well-dressed, handsome, wealthy guy, impeccably groomed whom no one suspects as Zorro, because he practically faints at the sight of blood, and is quick to dab his forehead with a lacy handkerchief at the mention of violence.  How could a guy like that be the daring, swashbuckling Zorro?
This is, I think, where the writers of Batman have kinda gotten away from the concept.
Bruce Wayne, billionaire playboy, is usually portrayed as more of a James Bond type than a Don Diego. He's ridiculously handsome and charming, yes, a proven lady's man, a world traveler, and usually the fittest guy in the room.  Everybody wants to be him.
How does anybody in Gotham not know he's Batman?
Batman – the crimefighter, if it ain't broke don't fix it. He would stay the way he is.
But how could you make Bruce Wayne completely unrecognizable as Batman?
The answer jumped out at me.
Make him a Kardasshian.
Bruce Wayne is from the rich set.
What if he's constantly posting shirtless selfies on Instagram with models in exotic locales and exclusive clubs?
What if he's an obnoxious social media guru who goes by B-Dubya, a witless narcissist whom his detractors say rode the initial sympathy over his parents' double murder to pseudo-celebrity?
"The apple has fallen very far from the tree, Mr. Wayne."
I've heard this line used a couple times, but it never quite strikes true for me. There's usually no reason for anybody to disparage Bruce Wayne.
But what if he was that privileged, talent-less one per center everybody loves to hate? The shallow, wealth porn wastrel who seems to be on the internet 24/7 pushing products and influencing his millions of devout followers, alternately lamenting some trendy pet cause and flashing expensive wristwatches and magnums of Cristal?
Ooo you'd hate him. Gotham would hate him.
How could a guy like that ever be Batman? With all the posting he does about The Bachelor, he'd never have the time.
Except it's Alfred, sitting comfily in his easy chair at Wayne Manor, putting aside the Emerson he's reading during the commercial breaks, to tweet under Bruce's account about Colton's dubious taste in women.
It's Alfred posting a set of pre-prepared selfies taken in the VIP booth of Penguin's Iceberg Lounge with a passel of fawning starlets, perhaps tagged with mindless webspeak drafted by Bruce or young Dick Grayson, B-Dubya's obnoxious 'pet' orphan, a Jaden Smith style freshman philosopher molded in Bruce's image.
Bruce snaps a fresh from the shower selfie, duck lipping at his phone….then hands it to his butler.
"Alfred, I want the first one posted in a half an hour. The windsurfing stuff at 3:30. Spread the club shots out over the rest of the night. I'm in Montevideo, so remember the time change."
And then he pulls back the bust of Beethoven and slides down the pole to the Batcave…
Maybe Jim Gordon is the only cop to suspect anything – because what kind of ally/foil would he be otherwise? Maybe he spots a baseball game on a TV in the background of one of Bruce's live tweets – a game that actually aired three days ago…(WTF is Batman? #BDubya #1Luv)
Now as I said, I love Batman's rogues gallery, so in the universe of Hashtag Batman, what are the villains up to?
Harvey Dent – Bruce's frat buddy in college. He came from humble beginnings, and unknown to him, Bruce paid his way through law school via various dummy foundations. Seen as the straight edge, the good one of the so-called 'dynamic duo.' The guy who stayed home at night and stuck to the books while the future B-Dubya went out partying. Eventually Bruce dropped out and went traveling for a year. Now Harvey's Gotham's star prosecutor….for a little while, anyway. When he goes beyond the law to prosecute one of Gotham's worst mobsters, the guy's wife flings acid in his face in front of the courthouse and his inner instabilities come crashing to the front.

Harley Quinn – An in demand criminal psychiatrist, regularly called upon by Harvey to give weighed psychiatric evidence to get otherwise legally insane suspects jail time. When Harvey's racket is exposed, she is discredited, and winds up on the Arkham Asylum staff as only Hugo Strange will hire her. Just in time to meet the love of her life…
T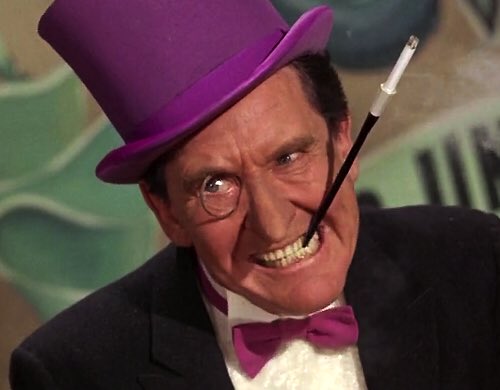 he Penguin – The second wealthiest man in Gotham, a sleezebag who made his fortune as a Hollywood producer, a salacious Harvey Weinstein running a popular garish nightspot, The Iceberg Lounge, where women parade around in skimpy penguin costumes and anything goes in the VIP areas. A blackmailer whose club is wired for sound and video. He's got something on everybody who passes through his doors.
Poison Ivy – An extreme eco-terrorist at the head of a pagan, earth worshipping movement who also leads an Anonymous-style legion of radical cyber-terrorists intent on bringing down the lumber and farming industry.  Because I've always felt…if Ivy reveres the life of plants, she wouldn't be a vegetarian at all.
The Riddler – A once brilliant young video game designer (I admit I borrowed this from Batman TAS) fired and disgraced in a Gamergate-like scandal after Bruce Wayne responded to a comment on one of his Instagram posts ("Hey B-Dubya, what do you have to say about the misogynist Ed Nymga, who encourages the harassment of his female co-workers in the Triple A game company Wayne Industries owns?" "I say Ed Nygma's fired. #BDubya #YaDoneSon #MeToo"). Now he's been banished to the fringe of Youtube, a raving, alt-right misogynist with a personal beef against Bruce Wayne ("Riddle me this, friends! How does a rich wastrel with no formal training lord it over us all from the headquarters of a mega-billion dollar company? Answer: He spends his dead parents' goodwill credit. But not for long!").
Scarecrow – A legendary horror filmmaking auteur in the vein of Dario Argento, John Carpenter, and George Romero, so obsessed with instilling true fear, he's employed hallucinogenics and subliminal hypnotic suggestion in his weird experimental films (with the help of collaborator Jervis Tetch). He was fleeced in his career by Penguin and holds a grudge. Now, he's making a comeback on the internet with his bizarre short films. Horror acting icon Matt Hagen often collaborates with him.
The Ventriloquist/Mr. Scarface – Arnold Wesker is head puppeteer on a wildly popular children's show, but he is implicated in a sexual scandal and cancelled, re-emerging with the Mr. Scarface puppet persona. The puppet is enamored with his former co-star now partner in crime, Baby Dahl (because how has that great character not made the jump from TAS?).
Now if you've gotten this far, you must be wondering about The Joker.
The Joker works best when the audience has no idea who or what he is.
The Joker tells three stories about his origins.
He was an innocent man incarcerated on a trumped up charge and disfigured during a prison assault.
He was a veteran, employed in chemical warfare. When wounded and suffering from PTSD, he returned home to find his government unwilling to give him the medical and psychiatric help he needed. He found solace in the fringes of the internet and in conspiracy theories. He detonated a gas bomb of his own devising and was disfigured in the process.
He was a comedian with gambling debts who had his face slashed by debt collectors.
Later investigations by Batman turn up three individuals with matching stories. All of them were admitted at Arkham Asylum. None of them emerged. Their skeletons are found in the basement.
But what's the Joker's angle in the universe of #Batman?
This brings me to Jokerphish.
The comments sections of B-Dubya, The Riddler, and Poison Ivy, as well as various other internet celebrities, are usually rife with discussion. Then a phantom account 'Joker' begins trolling every major site, posting the most outrageous stuff, contrary to whatever the popular opinion of the page is (it posts liberal feminist stuff on Riddler's page, enraging his incel followers, it posts anti-environmental stuff to Ivy's, etc. Whatever the most contrary opinion is). This invites loads of replies, and every reply initializes a virus that displays a fish with a mouthful of human dentures and locks the system. The virus spreads like wildfire, initiating a temporary shutdown of most major social media sites.
Gotham PD investigates, and Jim Gordon turns up a room of dead hackers, their faces slashed into bloody smiles.
The next day The Joker hits television. He rants about his dislike of the internet and its shallowness, its celebration of mediocrity.  To prove it takes nothing at all to achieve fame there, he demands to be made into the top trending topic on every site, or he will murder ten people a day every day he isn't trending. His catch is, he won't set foot on any website. "After all," he says, "I'd never join a club that would have me as a member. HAHAHAHAHAHAAH!"
And the deaths start happening, because Jokerphish has downloaded the personal info of every respondent. Thousands of users have replied. Each one is found dead with a smiling fish on their corpses…
Anyway, happy 80th, Bats.