Two things I've noticed from a sampling of reviews of RAINBRINGER: ZORA NEALE HURSTON AGAINST THE LOVECRAFTIAN MYTHOS.
One is that a depressing amount of people (mainly of my hue) aren't aware that Zora Neale Hurston was a real person. Somebody asked me about the book the other night and I had to spell her last name for them. That said, I don't hold anybody at fault for not being familiar with her. I reprinted my rundown of her accomplishments from the introduction of the book right HERE. I actually love when people tell me they went and sought out her works Mules And Men, Tell My Horse, or Their Eyes Were Watching God based on liking my book. If RAINBRINGER can be a roadside 'almost there' sign pointing readers to the greater destination of Zora, I'm proud as hell to have it be that.
The other is that the subject of my ethnicity seems to come up pretty frequently. I've also noticed from private conversations that a lot of reviewers and readers have been reluctant to try the book out because….well, frankly, I'm a white dude writing the Queen of the Harlem Renaissance. This is a criticism I entirely understand and empathize with, which is why when I had come to the end of my Lovecraftian Zora stories and wanted to publish them, I made the decision not to seek out a publisher and put the collection out myself. I didn't want to entertain the possibility that in sharing these stories I would be taking anybody else's spot or telling anybody else's story.
But I'm not gonna tell you pay attention to the man behind the curtain.

To that effect, and with an eye towards addressing that very valid concern, I am posting the afterword of RAINBRINGER here without comment…..

—————————————————————————————————-
What the hell am I doing writing about a character named Zora Neale Hurston?
When I was a kid, among my Little Golden Books was Walt Disney's Uncle Remus, with a picture of B'rer Rabbit regarding the Tar Baby sitting on a log.
Man, this doesn't sound like a very auspicious beginning to this afterword does it? Please bear with me.
I used to beg my mother to read it. I loved the cleverness of B'rer Rabbit, tricking B'rer Fox into tossing him into the briar patch to escape. The Tar Baby, to me, was an utterly alien thing, almost something to be feared. Entirely oil-black, dead, white eyes and stubby cork nose, draped in a scarecrow's coat and a raggedy hat, masquerading as something alive, mocking the gregarious rabbit with its dumb stoicism. Then, when he finally, in exasperation, lays hands on it! The Tar Baby flowed and stuck, becoming a viscous, amorphous blob that actually engulfs the nonplussed protagonist. What the hell must have been going on in B'rer Rabbit's mind when all that went down?
Jeez, am I really turning this into a Lovecraftian encounter? Eh, it's what I do.
But this is about Miss Zora Neale.
In hindsight, the thing I loved most about the stories in that book was the cadence and rhythm of the characters' speech. I couldn't say now if my mom did them any justice, I know she hated doing it and made a big deal whenever I asked, preferring Scuppers The Sailor Dog, my other childhood favorite. But I loved to hear B'rer Rabbit read, and, when sitting alone reading to myself, I enjoyed breathlessly whispering his words as I leaned on the palms of my hands and pored over them over and over. I didn't see the movie till I was out of college, and didn't read Joel Chandler Harris's originally collected stories till around the same time.
Of course, Harris's stories were taken from the animal stories of African Americans he heard and remembered (the Tar Baby story itself had already been published the year he was born, in The Cherokee Advocate), then inserted into this problematic plantation framework, "to preserve in permanent shape those curious mementoes of a period that will no doubt be sadly misrepresented by historians of the future."
Oh brother. Well, let's leave that alone for a minute, shall we?
I can't describe why I loved these stories as a kid, but I think it was such a unique and descriptive way of speaking, it appealed to my ear, as the iambic pentameter of Shakespeare and the folksy natural speech of Larry McMurtry's and Daniel Woodrell's characters did later. When B'rer Fox and B'rer Bear dance around the tarred up B'rer Rabbit, they don't merely gloat, 'dey dance roun' and roun,' chuckling fit to kill.' And when the Rabbit gets the better of them, he doesn't throw back his head and let out a laugh that echoed through the woods, he 'threw back his head an' let outta laff dat echo troo de woods.'
In reading aloud, you see, the reader is forced to mimic the manner of speaking.
Years later, in college, my creative writing teacher passed around Zora Neale Hurston's seminal novel, Their Eyes Were Watching God. By passing it around, I mean we physically sat in a semicircle and read it out loud.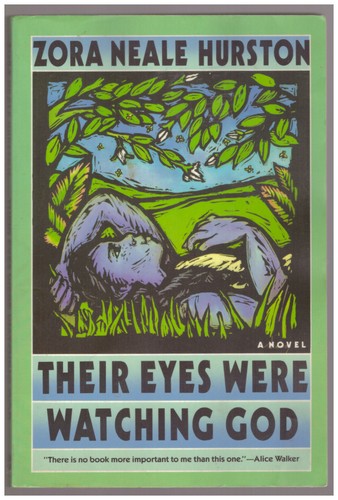 I relished the sound and the texture of Zora's authentic language, the sweet succulence of her vivid metaphors. She could put an image in your mind by describing something you would have thought was unrelated. It was alive and sexy, like biting into one of the grapefruits in Janie's hip pockets. Maybe something deep in me recalled the joy I got as a kid from listening to and reciting that deep southern dialect (something as a kid from Illinois I had no other real exposure to, except maybe my dad's best friend and his daughters we visited once down in Kentucky) in that old Golden Book. Of course, I didn't know at the time that these were coming at me filtered through a white ear. The real thing was like feeling the warmth of the first spring sunrise, or the burst of an orange in your mouth, I suppose.
Well, after college, I kind of forgot about Zora, but she found her way back into my reading in other ways. I took an interest in Vodoun, and naturally came across her name in conjunction with her famous firsthand account of Haitian Vodoun in Tell My Horse (I think I probably saw her mentioned in Wade Davis' Serpent And The Rainbow).
In reading that, I discovered the rich life of the woman whose fictional words had so struck me in school. I found that her real life was even more enticing than her prose.
Zora was one of a kind, and as I worked my way through her other folklore book Mules and Men, her short stories, her essays, through Moses, Man Of The Mountain and her personal letters, I came to love her ardently. I was enraptured by her biographies, knocked silly by her quotations and the bold and brassy way she came at life.
Just before the writing of this afterword, I happened across an old voice recording of her singing on Youtube and actually got flushed by the sound of her, as I would have if a school crush had suddenly whispered in my ear.
I can only imagine the effect she had on the men in her life. She was a charming woman by all accounts, and though she refers to herself as homely, her persona lends her an allure beyond anything any of her wildly varying photographs can capture; I mean, enough to make me head over heels for her decades after she walked the earth.
My favorite image of her has got to be the one where she's mugging for the camera in a white dress and broad brimmed hat, a wide western gun belt slung around one cocked hip. Wotta woman!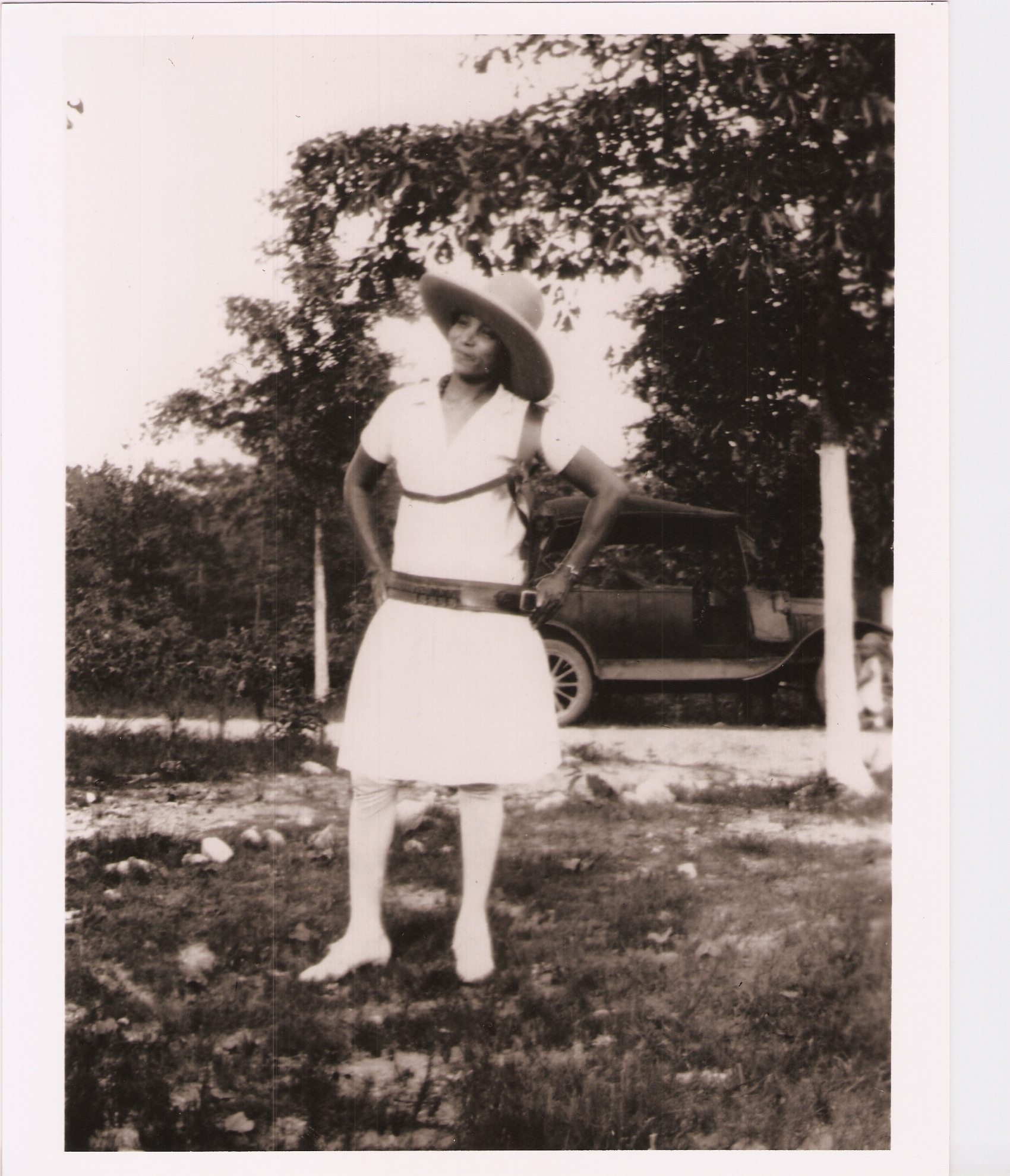 But enough of my Tex Avery table pounding.
How did I come to write about her myself? Whatever made me think I could?
Well, the how came with Oscar Rios' Golden Goblin Press putting out a call for Caribbean-themed Lovecraftian horror.
I knew I wanted to do something for it involving what I'd learned of Haitian Vodoun, and I flipped through Wade Davis and my Tell My Horse, and found a quote by Zora that kicked it all in motion;
"Research….is a seeking that he who wishes may know the cosmic secrets of the world and they that dwell therein."
Writers of Lovecraftiana hone in on the word 'cosmic' like bees to pollen, of course, but what grabbed me was the difference between Davis' and Zora's approach to Vodoun. They were both scholars and adventurers, but Davis approached Vodoun possession and zombies from a dispassionate, scientific point of view, whereas Zora did not outright refute the mystic nature of the rite.
And why should she? She had submitted herself to the Hoodoo initiation ritual of Luke Turner in New Orleans, been painted with the lightning down her back, sworn to withhold the secret and sacred knowledge of more rituals than Davis had ever been allowed to observe.
Plus, in reading her autobiography, Dust Tracks On A Road, it can be inferred that there is much that Zora left unsaid. Of course I mean real things from her life that she glossed over; her birthdate, her actual birthplace (not her beloved Eatonville, but Notasulga, Alabama – but was she being dishonest here? Isn't Eatonville where her heart always was, and thus her true birthplace?), the notorious condemnations of America's foreign policy in World War II that the publisher excised, her uncomfortable prostrations to her white benefactress, Charlotte Osgood Mason.
Reading that book, a book she was not keen on writing in the first place, we are presented with a façade, a mask that Zora, as a black woman, likely had to present to white people all her life. Of course, reading close, we can still glimpse her looking out through the eye holes, but we have to look close.
So I started thinking of Zora as the type of woman who wouldn't flinch at the Old Ones; an occult scholar more in the Robert E. Howard mode, and one who could be honor bound to keep secrets. For all that she recorded and published, what might she have held back?
Now the elephant in the room.
What made me, a white man, think I could write one of the most beloved and important African American women of the Harlem Renaissance?
I'm afraid any drawn out, carefully mulled-over answer I can concoct will end up sounding like a stereotypical display of white privilege at best, so I'll just keep it to this;
Simply and truthfully, I love Zora Neale Hurston.
Through the joys and sorrows of her personal letters and through her published works, there are aspects of her experience that resonate deeply with me on a human level. I think she was amazing. I'm happy to have known her through her words, and I present these stories as a representation of that love, stemming from a desire to share my appreciation of her through my own weird medium.
I don't know how this book will be taken. I'm completely, painfully aware of the possibility of giving William Styron levels of offense (or perhaps, Van Vechten is a more apt analogy). Readers are free to read this or ignore it as they see fit.
I think Joe Lansdale probably said it best (he certainly says most everything better than me) when he wrote;
We learn about one another by trying to step into one another's shoes. They may not always fit as well as we would like, but we ought to try walking in them.
I like to think Zora would get a kick out of this, and I hope she would take this book as the act of flattery and literary hero worship it is intended to be.
That's all I got.
---
RAINBRINGER is a collection of fictional, weird adventure stories inspired by a public figure whom I've admired for years. They are not the story of that person.
The reality is better than anything I could come up with on my own, and has been related elsewhere by infinitely more qualified writers, such as Valerie Boyd's WRAPPED IN RAINBOWS, Alicia D. Williams and Jacqueline Alcantara's delightful Jump At The Sun: The True Life Tale Of Unstoppable Storyteller Zora Neale Hurston , I Love Myself When I Am Laughing…And Then Again When I Am Looking Mean And Impressive: A Zora Neale Hurston Reader (edited by Alice Walker) , and Zora Neale Hurston: A Life In Letters by Dr. Carla Kaplan to name a few.
Seek the real Zora there.
I welcome any comments.