The premise of Jeff Carter's new collection We Bleed Orange and Black: 31 Fun-Sized Tales for Halloween stems from the author's all-encompassing passion for the Halloween season, which, in the course of our friendship, I've come to know and appreciate firsthand. The book is like a plastic pumpkin bucket with a sign that says Take One and one of those green rubber hands that snaps up and grabs you as you close your fingers around a Zagnut. It's sincere as a van Pelt pumpkin patch and drips with October love like a jack 'o lantern drooling black and orange wax in the wee hours of All Hallow's Eve. If you've got a modicum of the same appreciation Jeff has for the holiday, you're going to find something to love in this.
I asked Jeff a buncha questions. Here they are, with his answers. You know the deal.

1. You personally appreciate every aspect of Halloween, and there are a number of stories in the book where you offer a remarkably diverse series of interpretations of the holiday, native, foreign, even, in one of my favorite offerings, extraterrestrial. What's your favorite non-American Halloween tradition?
My favorite might be Bon Odori, a huge group dance held at Japanese Obon festivals where the dead are invited to dance with the living. I've had the opportunity to participate a few times (one time with you!)

2. In the same vein, I know we share a fondness for cryptozoology and obscure critters from folklore, but in one story where Busta Rhymes, the Mothman, and Sasquatch are judges on a kind of 'American's Next Top Monster Costume' show, you really surpassed me. I was agog at the monsters you pulled out of your hat. Had you been itching to depict any of these for a while, or did you discover them in researching for this. Which was your favorite among the contestants in the story?
The 'Fearsome Critters' from American Folktales have been a blind-spot of mine for a while and I've been looking for a way to play with them. Many of the monsters that hail from the logging camps of Appalachia are silly tall-tales, but my favorite would be the saddest creature – The Squonk, a critter so awkward and ugly that if it's ever spotted it dissolves in its own tears.
3. You wear your ghoulies on your sleeve in this one in terms of exploring the personal origins of your own love for Halloween, so I won't have you repeat it here. It's right there in the excerpt from The Year Without Halloween and the story of the werewolf in the Halloween costume contest (which…I'm pretty sure I was present at the gathering that inspired this one). Give me the best Halloween costume you ever wore, and your favorite Halloween experience.
My most ambitious costume ever was an expandable two-story high carnival-style Grim Reaper.
I intentionally make it hard to choose a favorite Halloween experience by packing every October with as much fun as possible. Therefore, I will simply reach back to my blurry recollections of childhood running through the dark streets with my friends, inhaling the fumes of bad latex masks and letting the night stretch out before us like a moveable feast of candy and adventure.


4. Christmas has its TV and movie classics. What about Halloween?
To avoid any angry mobs, I'll give an honest answer: I loved every 'Halloween episode' of my regular childhood shows. I like the Great Pumpkin as much as the next kid, but it felt more special when Halloween took over an episode of MacGuyver or Quantum Leap.

5. Who was the ambassador of Halloween when you were a kid? Like, in Chicagoland, we had Rich Koz, the Son of Svengoolie, and as a kid who sat in front of the TV a lot, watching his monster show around Halloween was a big deal. Did you have anybody like that?
Commander U.S.A. was our beloved Horror host for 'Groovy Movies', and every Saturday afternoon became Halloween when he and his pal Lefty were on.
6. This has been covered elsewhere (and I think at least one of these is answered in your A,B,C's of Halloween in the book), but not here. What's your favorite and least favorite Halloween candy?
Favorite: Mini-Reece's Peanut Butter Cups (especially the modern dark chocolate kind)
Least favorite: Necco Wafers, hands down. Those brittle, chalky discs of plastic are like some cheap stale mint you'd find under the floor mats of an old family station wagon in a junkyard. I once lost a bet and my friend made me eat five entire rolls.
7. In the face of Covid-19 and social distancing, it's a great time for masks but possibly not a great time to go door to door for candy or bob for apples. What do you think Halloween's going to look like this year (and in subsequent years, till this pandemic comes under control)?
This is a developing story, of course, but according to a recent poll I saw many parents are still planning to celebrate and/or take their kids trick-or-treating. I've seen people planning clotheslines of individual goody bags, long tubes to slide candy down, and my favorite '#YeetTheTreat'.
For myself, I've considered a 'Candy-pult' and a rack with dozens of piñatas.
Ultimately, I think the focus will be on home decorating, scary movies and hopefully some ghost stories.
Stay tuned after this commercial break for the lightning round!
WE BLEED ORANGE & BLACK – 31 Fun-sized Tales for Halloween
Available for Pre-Order Now –

https://www.amazon.com/Bleed-Orange-Black-Fun-sized-Halloween/dp/B08FP25HZ4/ref=sr_1_2?dchild=1&keywords=jeff+carter+orange&qid=1599161059&sr=8-2
Kindle: 99 cents
Print: $5.50
Kindle Unlimited: Free
Release Date: October 6, 2020
Free Giveaway in October – 10/7, 10/8, 10/9 and 10/12, 10/13
Review copies available upon request.

And we're back, boos and ghouls, with the lightning round…
8. Most Dangerous candy? Jaw-breakers
9. Weirdest candy? Wax whistles and juice bottles
10. Childhood Dream costume? Cylon from Original Battlestar Galactica
11. Adult Dream costume? Ghost Rider with convincing flaming skull


12. Haunted house or Hay Ride? Hay Ride
13. Universal Horror Nights or Disney? HHN (Disney has never been in my Halloween Budget)
14. Your Worst Costume? Disco Zombie with curly wig, liquid latex makeup and vintage polyester shirt and pants. It was a great costume until I got caught in the pouring cold rain.
15. Freehand pumpkin or patterns? Freehand
16. Ever seen a ghost? Not that I know of
17. Eff, Marry, Kill: Vampires, Werewolves, or Zombies? This is why polygamy was invented.
18. Safest pandemic costume: Boy in the Bubble
19. Riskiest pandemic costume: Kissing Booth
20. Jason or Michael? Jason

21. Blade or Ash? Again, polygamy.
22. True Crime or fake crime? Fiction, please.
23. Grey Aliens or Xenomorphs? Xenomorphs
24. Are humans the real monsters? Not if actual monsters are on the rampage
25. Cutesy Horror? I like every flavor of scary. Halloween is for everyone. That said, it's exposure to the real stuff that scars kids and turns them into horror fans.
26. East Coast or West Coast? East Coast has the leaves and cider. West Coast has a lot of creative people who blow it out with great costumes, makeup, haunts and theater. It's a tie.
27. What might Halloween look like in the future? In the near future we may lose the associations of hot cider, sweaters and fall leaves because autumn will be just too damned hot. Costume technology will advance for those who want built-in AC, but otherwise I expect skimpy costumes to be the norm. Waterparks will get Halloween makeovers in the fall, so buy stock in The Creature from the Black Lagoon now.
28. Come back as a Spooky Scary Skeleton? Honestly, it seems like a lot of work.
29. Jack-O'lanterns: Pumpkins or turnips? I carved my first turnip last year and it was really fun, so now I do both!
30. Worst horror movie cliché? Person dragged away from camera.

31. Halloween or Hallowe'en? In my heart there is always a comma in Hallowe'en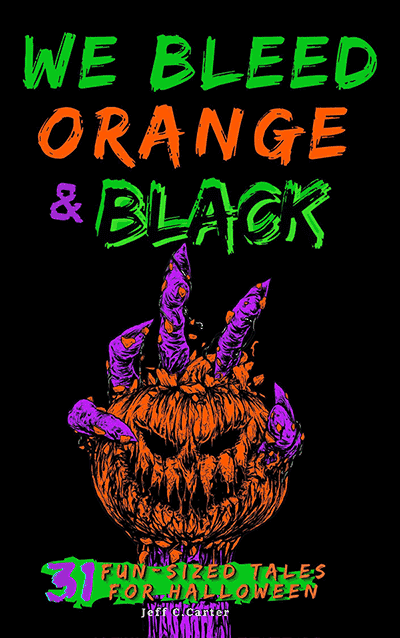 WE BLEED ORANGE & BLACK – 31 Fun-sized Tales for Halloween
Available for Pre-Order Now – https://bit.ly/WeBleed
Kindle: 99 cents
Print: $5.50
Kindle Unlimited: Free
Release Date: October 6, 2020
Free Giveaway in October – 10/7, 10/8, 10/9 and 10/12, 10/13
Review copies available upon request
Social
Seek out more of Jeff's work at JeffCCarter.com / Facebook & Twitter: @carterwroteit
Amazon Author Page & Good Reads: Jeff C. Carter / Instagram: @Jeffc.carter