My dad is waiting for a train, he tells me.
"Where's it going?" I ask.
"Anywhere else," he says. "Where is it already?"
"I guess it's been delayed?" I venture.
"Yeah," he says, slowly. "Maybe I can talk to the stationmaster. Do you think he ever comes down here for people who are stuck waiting?"
"I don't know," I say.
Maybe he only comes down for relatives. I'm reminded how much I despise nepotism. Angels roll away the stone from Christ's tomb. He says all his goodbyes and ascends bodily. Abrams' kid gets to write Spider-Man. My dad's stuck waiting at the station.
The station is a hospital bed in the living room. He lies beneath the covers, wrapped in plastic. He hasn't been able to get up in three weeks now. He tries sometimes. And sometimes he cries.
"It just gets old. Waiting," he explains.
He's not sure what's happened to him.  Back in the 80's he was involved in a siege in Calumet City, where we're from. A man locked himself in his house with an arsenal and a gas mask.
I can still remember his car roaring into the driveway that day.
A friend and I were watching cartoons, and he stormed past us in his cream colored blazer and brown slacks and tie. He was plainclothes then, in juvenile division, and he had a mustache as I guess all cops are obligated to sport once in their lives.
He runs upstairs, and a minute later comes down with a shotgun I didn't know he had.
"What's goin' on, Dad?" I ask.
"Shooting," he says, and runs back outside to his car. He goes flying backwards down the driveway and swerves into the street, then goes off, blue mars light flashing on the dash. It's like Starsky and Hutch.
My friend and I look at each other, wide-eyed.
"Coooool!" we exclaim, like kids in an 80's movie.
It never occurred to me he was in danger till this moment.
That night we glimpse him on the TV news, crouched behind a parked squad car, shouting to an officer who's come to the house once or twice.
The camera cuts to a SWAT guy shooting out a streetlight. In hindsight, I don't know why the city didn't just turn the power off. My mom tells me the fire department got pissed because of all the broken glass that rained down on the parked hook and ladder truck. They had to pick it all out.
What I most remember is the remote anchorman mispronouncing a local Mexican restaurant as Pee Pee's.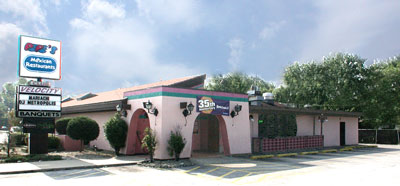 But now my dad insists he was shot that night. That's why he can't get out of bed, why everything's sore.
And my mom has to explain to him about the stroke again. She does it three or four times a day. Every time he wakes up from the long, feline sleeps he spends most of his time in now.
My dad was building a model railroad. It was a mockup of the Santa Fe line, with stops in Indiana and New Mexico. There are red stone mountains, a family of bears fishing in a stream. There's an Italian restaurant he had me name.


It will never be completed. Recently I read about Rod Stewart finishing his layout. It made me angry and sad.
Anyway, some of his train buddies, themselves 70 year old men, came over before we flew out here to visit for the holidays, and set up the old Lionel train and track that used to loop around the Christmas tree when I was a kid. I run it a few times for my kids.
My mom says the sound of it is what's making him think he's in a train station.
My kids are making a racket. They take polaroids with him from Willow's new instant camera. I don't know why she wants an instant camera in this digital age. It's retro, I guess. She's only nine. Does she care about that?
My dad says he can't see the flashes.
It must be very like a busy train station, all the noise. All the people coming and going for Christmas dinner. Saying goodbye to him. But we all leave and he stays.
Tonight I helped him lie in his own bed with my mom. Just one night, while I'm here and can help her lift him into the wheelchair. He's lighter than before, his legs thin and pale, but because he has no agency, he's still hard to pick up.
My mom tells him she's going to shut the light out. After she does, she asks him if it's alright. He doesn't know what's changed.
When I have the remote, we watch a lot of Barney Miller. Or rather he listens to it. Smiles now and then at Harris and Wojo and Yemana.
"Harris is writing a book," I mention.
"Yep," says Dad. "Blood On The Badge." He remembers that.

He asked to watch a war movie for some reason today and my mom puts on Windtalkers. It's a lot of shooting and yelling. I don't know what he's getting out of it, 'cause he can't see this crazy Jon Woo bullet ballet unfold.


He's asleep by the end, and my mom puts on In The Heat of The Night. The show, not the movie.
I doze off. When I wake up he's crying, asking again why he can't get up. My mom counsels him to let go. In the moment I feel like she's being selfish, wanting it to be over with. I know that's not it though. She hates to see him in anguish, without his dignity.
I think he could go on for a long time yet like this. He's strong. Even laid low, he's very strong.
He doesn't want to leave her, he keeps saying. He'll miss her too much.
I still don't get the sense that he's afraid.