Hey ghouls and ghasts, I'm trying once again to watch a new horror movie every day for the month of October. No predetermined list this time out, just whatever I can get my hands on.
Day #1
Never Take Sweets From A Stranger – It's from Hammer and it's horrific, but not strictly horror. Every year a couple non-horror movies somehow make it into my viewing, and this year I kicked it off that way.  A British family moves to an insular Canadian town so the father can assume the position of principal for the local high school, only to go head to head with an untouchable old money family and their supporters when their daughter and the little girl next door falls prey to the lecherous, pedophilic old patriarch. A sobering and bold take on the subject for 1960, well done.
Day #2
The New York Ripper – Well I guess this is one of those misogynistic movies all the kids are always talking about. A homicidal maniac who taunts the police in a duck voice stalks the women of NYC. Every other line of dialogue drips with contempt for females, to say nothing Fulci's horrendous (if admittedly well executed) gore sequences, which seem particularly geared towards maligning the female form. Interesting to see the Big Apple in all its early eighties sleazy glory, but I felt like I needed a shower after this one.

Day #3
Alone In The Dark (1982) – Four homicidal mental patients take advantage of a power outage to besiege a family in their home. It was neat to see Dwight 'Murdock/Barclay' Schultz in a leading role, and Jack Palance, Erland van Lidthe, and especially Martin Landau play their psycho roles with aplomb. Of course Donald Pleasance as yet another bad psychiatrist is always fun to watch. And I liked The Bleeder, a killer who hates to show his face and gets a nose bleed whenever he kills, but a winning cast and some neat moments don't entirely make this a success.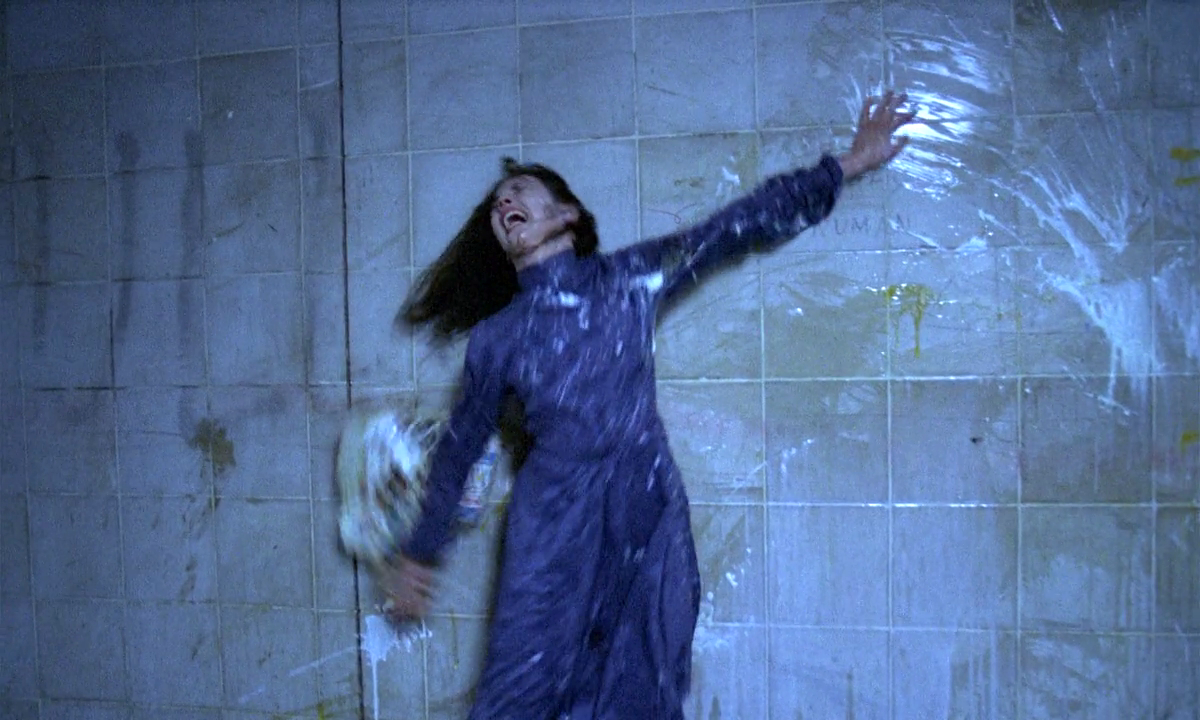 Day #4
Possession (1981) – A bizarre, surreal, and hypnotic study of the deterioration of a marriage. Sam Neill is the cuckolded husband, and as usual, it's fun to watch him lose it. Isabell Adjani fully commits to her role, shrieking and rolling in milk, blood, and bile. There is some great psychological and really effective body horror, but eh, this is for the Mother! crowd.


Day #5
Tombs Of The Blind Dead – My first real 'find' of the season! In this Spanish film, a band of Knights Templar looking for a ticket to immortality begin worshiping Satan and drinking blood. Hanged for their crimes until crows pick out their eyes, when the bell of their ruined abbey tolls in the night, they rise blind and undead from their graves, hunting the living by sound. A really neat and imaginative premise and a killer ending. Really enjoyed this one.
Day #6
Dead Of Night (1945) – A man arrives at a house in the British countryside full of people and can't help but think he's been there before. The guests tell four supernatural stories. Most of them are pretty familiar, and seem to have been tapped for Twilight Zone episodes ("Room for one more!"). One humorous story about two golfers comes off a bit tedious, but the ventriloquist story at the end makes up for it.  My favorite Batman villain is The Ventriloquist and Mr. Scarface, so maybe I'm biased. BUT! It's the nightmarish resolution of the bookend story that really elevates this movie into something special.


Day #7 – Taste of Fear – A paralyzed young woman returns to her father's house only for her stepmother to inform her he's gone missing. His corpse starts appearing to her in odd places around the estate, but by the time she informs someone, the body is always gone when she returns. Neat little thriller with a good twist ending and some great photography. Christopher Lee plays the family surgeon.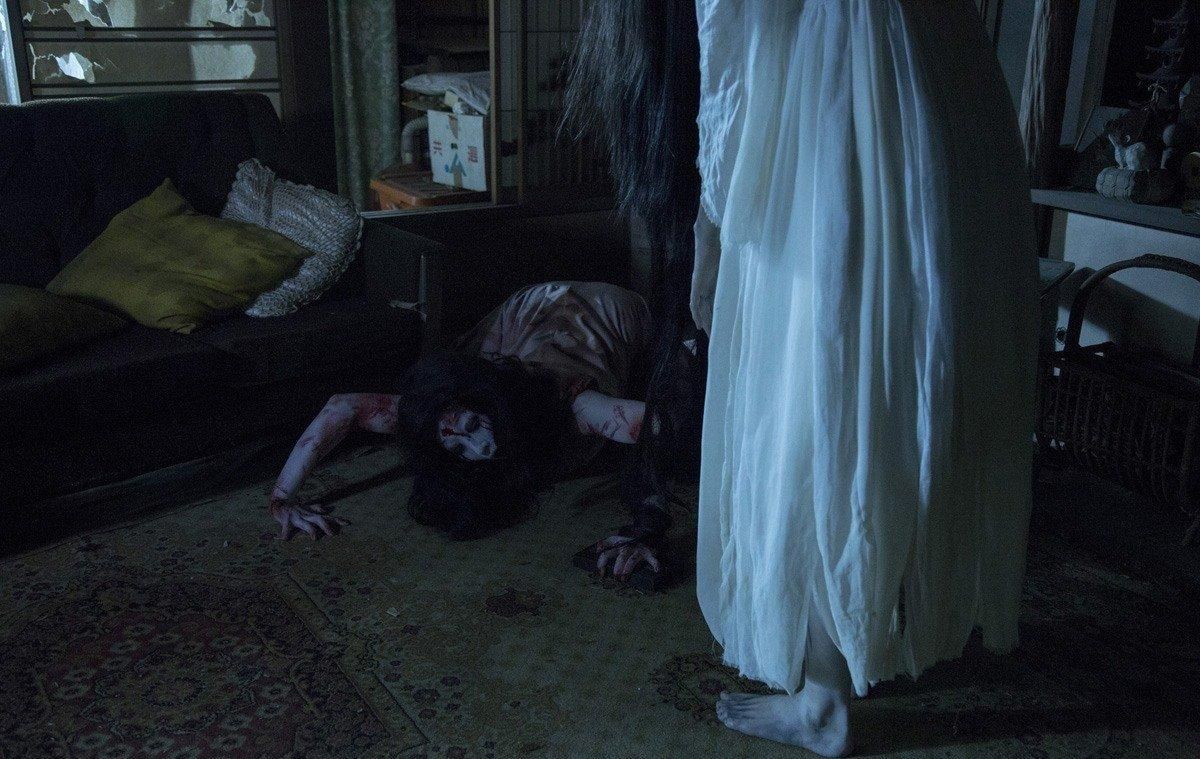 Day#8 – Sadako vs. Kayako – The ghost from Ringu meets the ghosts of Ju-On. I'd been anticipating this little 'grudge' match for a while. I've had a deep love of these monster mash crossovers dating back to Frankenstein Meets The Wolfman. This one plays like a Godzilla movie with a lot of human story build-up and a measured fraction of monster action, but I was expecting that, so I wasn't really disappointed. Had a lot of 'oh s_it!' moments, particularly when the heroine pops in the VHS tape and little meowing Toshio gets lassoed into the TV.  Worth it for the Seikima-Il theme song alone.  

Day#9 – Prom Night – Dull as dishwater amalgam of Friday The 13th, Halloween, and Carrie with not much original to recommend it and nary an actual teenager in sight. The killer is so unmemorable that when they're unmasked I had to check wikipedia to even realize who they were. The repeated three disco tracks are so monotonous they eventually come back around the other side to being catchy. Jamie Lee Curtis and Leslie Nielsen are in it….yeah, that's all I got.
Day #10 – The Invasion – It seems like it'd be hard to screw up yet another remake of Invasion of The Body Snatchers, but this one almost does it with some choppy, bizarre editing choices and a weird 'happy' ending that doubles as a condemnation of humanity as a whole. The viral infection eschews the previous movies' creepy subtlety of succumbing through sleep by adding on infection via projectile vomiting. Also, the process being reversible sort of negates the horror. I was reminded of the remake of Village of The Damned or Dawn of The Dead for some reason, where tweaking minor 'rules' established in the original renders the whole premise nonsensical. Stick with the 70s remake or Abel Ferrara's Body Snatchers (my personal favorite).


Day #11 – The Addiction – Speaking of Abel Ferrera, I watched this stylish, starkly composed vampirism-as-drug addiction movie, about a philosophy graduate student who is pulled into an alley and bitten, rendering her somehow even more insufferable.  Seriously, Lili Taylor's great, and Christopher Walken shows up, as well as Fredro Starr of Onyx and a couple of Ferrara's regulars. It's interesting if you're in the mood for its deep (and often very Catholic) questions, but it's a slow, heady burn.

Day #12 – Malevolent – The trailer for this Netflix supernatural exclusive drew me in but beware, it pretty much spoils three fourths of the movie, and the remaining quarter isn't all that good. A team of ghost hunting/spiritualist hucksters make money off the grief of families till one of them begins seeing actual ghosts. They are hired for more than their usual amount by an elderly lady in a big country estate who 'just wants a quiet house.' An intriguing premise at the start and an interesting twist  midway through unfortunately doesn't quite click together as it devolves into unwieldy PG-13 torture porn and  a pretty basic escape scenario. Had promise, but gets clumsy and falls on its face in the end. It does boast one very good jump scare, but again, it's spoiled in the trailer.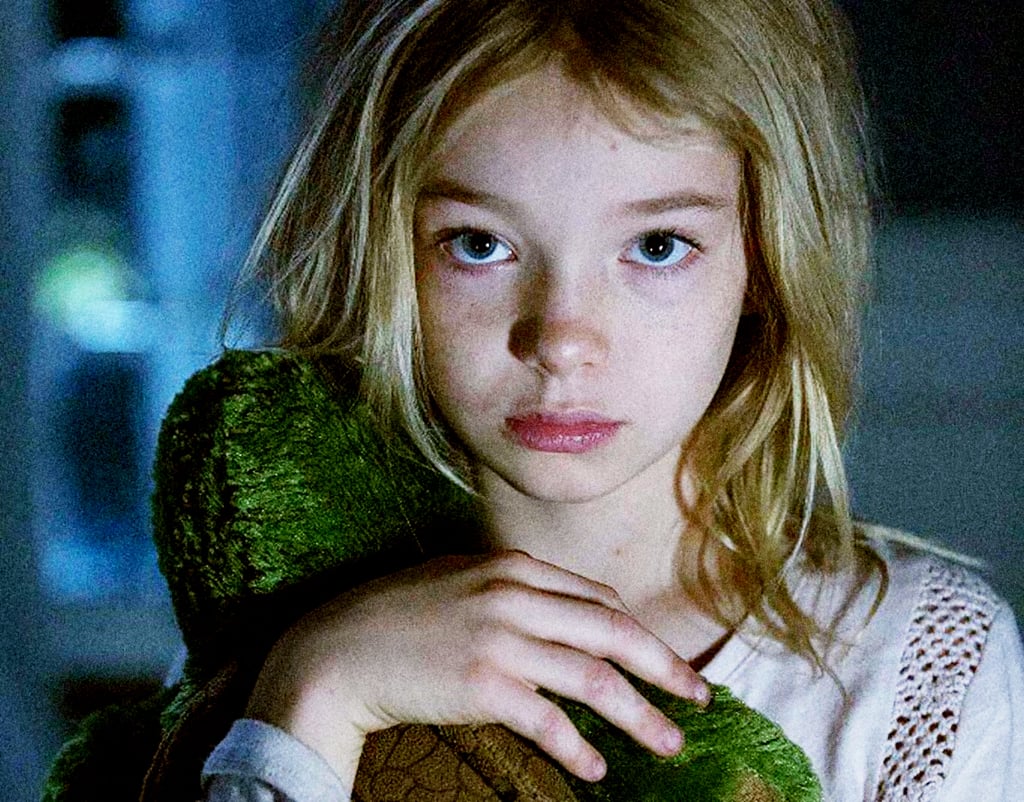 Day #13 – Stephanie – Effective little monster movie about a little girl hiding from an unknown threat all alone in a large suburban house with the corpse of her older brother and ominous news reports flickering in the peripheral. Then mom and dad come home.  Decent performances and a slow reveal of the nature of the antagonist make it hard to talk about this without spoiling anything, but I enjoyed it.

Day #14 – Night of The Creeps – I wasn't too 'thrilled' in the end by this schlocky but self-aware 80's B movie about a college campus plagued by body snatching slugs from space, but Tom Atkins elevates it in a quirky performance as a haunted police detective with a pack of quotable one liners.
Day #15 – Await Further Instructions – A xenophobic British family is less than welcoming to their son's Muslim girlfriend over the Christmas holiday as news reports intimate the onset of some kind of terrorist attack. A wall of black chords encircle the house in the night, trapping them inside, and a series of ever-increasingly odd instructions start coming in over their television set. Despite the world's strongest and most secure interior doors, this has a great cast (David Bradley is particularly scummy in his jerky patriarch role), and some surprising, cringe inducing turns. Echoes of Lovecraft and Cronenberg. I recommend.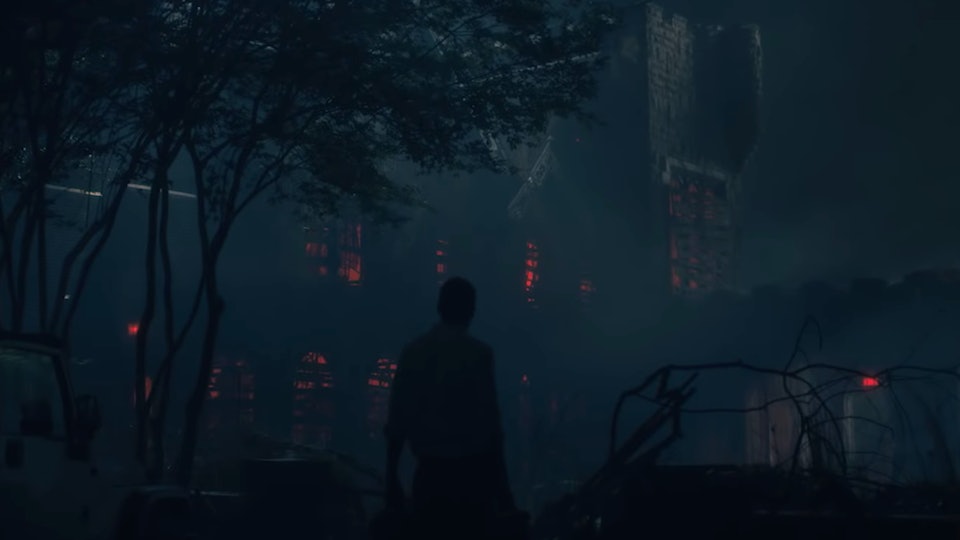 Day #16 – The Haunting Of Hill House – I'm breaking a rule a bit here and posting, well, I can't call this a television show, because I can't imagine a reason for it to have a second season. I'm thinking of it as a miniseries. It's a revisit of The Haunting, one of my all time favorite ghost movies, based on the novel by Shirley Jackson. This series and Hereditary are the two finest works of horror entertainment I've seen this year thus far. This is an imaginative take on The Haunting from the perspective of a family attempting to 'flip' Hill House over the course of one summer. It spans two timelines, playing deftly with notions of space and time, familial love, loyalty, dysfunction, and loss, and delivering in the end, a really moving family drama ensconced in deft allegory and some of the most genuinely disturbing scares I've experienced in recent years. I'm not speaking solely of FX and jump scares, of which there are a few very effective ones, but of harrowing existential reflection. Some of the most terrifying imagery is implanted in the mind via the stories told by tertiary characters, an example of really masterful writing and acting. Unforgettable. Wonderfully realized.  Something I hope to revisit with my kids during some future Halloween season.
Day #17 – Paranoiac – Oliver Reed is a rich, alcoholic good for nothing, next in line for the family fortune after the accidental death of his parents and disappearance of his older brother – only his neurotic sister stands in the way. Until his long lost older brother Anthony returns. Some nice shots but pretty by the numbers and predictable.

Day #18 – Revenge (2017) – Brutal, borderline gonzo rape-revenge-survival thriller about the careless young mistress of a rich French reprobate raped in his desert love nest by one of his two lowlife hunting buddies and left for dead. Gobsmacking, pulpy ultraviolence stylistically realized, it builds to the most blood soaked, tense climax I've seen in years. The camera goes from worshiping actress Matilda Ann Ingrid Lutz to practically fetishizing her brutalization. I loved how her transition from thoughtless trophy girl to resourceful, red-painted peyote-fueled valkyrie is gradually depicted right down to the loss of her blonde hair dye. Not for everybody, but I was wowed.

Day #19 – Hostel – Three entitled jerks backpacking across Europe are enticed into visiting a Slovakian hostel by a pimp and soon find themselves participating in a brutal 'art show' in which the sadistic wealthy pay to torture people to death. In spite of my avowed dislike of all things Eli Roth (I haven't enjoyed Green Inferno, Cabin Fever, or Hemlock Grove), I decided to give this a shot. Although it started off supremely annoying, in the end I was pleasantly surprised. This really isn't the gratuitous 'torture porn' movie I had been led to believe it was. Although there is some Italian level gruesomeness, it's not the bulk of the movie. However, I can't tell if this is an extremely xenophobic, homophobic, misogynistic bro-movie or if it's actually a self-aware satire of American exceptionalism. Anyway, the increasingly grisly fate of the utterly unlikable main characters amused me, as did the quick Takashi Miike cameo. And of course, revenge against the unscrupulous 1% is cathartic.

Day #20 – Hostel Part II – The Hostel 'mythos' is expanded pretty well in this sequel, which spices it up by changing the protagonists to three young women and includes a look from the other side of the….pliers?…..by following a pair of rich alpha dawg a-holes who have taken a weekend in Slovakia to indulge their basest urges. All the familiar faces from the first movie are back and get fleshed out a bit more, including the mop-haired desk clerk and the weird gang of half-feral kids. Some neat script-flips in this one, including a couple laugh out loud moments. I have to admit at this point I'm a fan.
Day #21 – Hostel Part III – I guess the 'magic' of Hostel was assuredly Eli Roth, because this direct to video sequel doesn't seem to quite 'get' the other two. The action moves to a Las Vegas chapter of the Slovakian 'Elite Hunting Club,' and instead of isolated backpackers or tourists, the victims are a bunch of American dudes on a bachelor party weekend – which doesn't really make sense at first, till the 'twist' happens and kinda excuses it. I think it just would've been more interesting to follow a vacationing foreign couple instead. There are a couple cool ideas and kills, and they do alright with the obviously cheaper budget, but it's easily the weakest entry.

Day #22 – A Nightmare On Elm Street (2010) – Well, I never had much use for Freddy Krueger. At first I thought it was the bad one liners and lame jokes. I was terrified of the TV spots when I was a kid, and had nightmares about silhouetted Freddy chasing me around a pool, his face obscured by the shadow of his hat. When I finally worked up the courage to watch the movies in high school, I found them pretty silly. I halfway enjoyed New Nightmare (till Freddy actually showed up, cracking jokes again). But now, in adulthood, I think I have always disliked the character because, well, he's a child molester. In TCM, F13, Halloween, you tend to kinda root for the killer. Of them all, Jason Voorhees is the one I've always liked best. He's got a legit grievance (at first), and actually, never attacks any children, being a kind of child himself (in Part IV he goes after Tommy yeah, but mainly because Tommy interferes in the killing of his mother and sister. And in VI, the only movie where kids actually show up at the camp, he spares them every time). This remake with Jackie Earle Haley doesn't pave over the character's skeevy origins, which results in me finding Freddy even more unlikable. As to the movie itself, it's aptly executed, and the stupid puns are thankfully missing, but it's kinda ho-hum. Same old same old.

Day #23 – Apostle – An ex-priest heads to a remote island to rescue his sister from an Utopian commune and winds up face to face with its occult secrets. I think my favorite subgenre of horror is folk horror. I love The Wicker Man and Curse of The Demon, love Kill List, Black Death, The Devil Rides Out, The Witch, Lair of The White Worm, Viy….masked cults out cavorting in the fields give me life. I also love Gareth Evans, who blew the top of my head off with The Raid and put it back on upside down with The Raid 2 (I still firmly believe Gareth Edwards got a Star Wars job because he was mistaken for Gareth Evans). So why don't I like Apostle? I can't really put my finger on it. It's overlong, at two hours and change, but I usually don't mind that if the story's compelling. It's well made, looks great, has a suitably gruesome central secret….I just don't know. It feels….restrained. I'm all for an artist trying something new. My own writing jumps all over genres. But it just feels like a movie by somebody uncomfortable in the constraints of the genre. There are flashes of frenetic, violent action that seem out of another movie. The brawls are where Evans shows flashes of his brilliance. I'm thinking of when the priest disarms and stabs two guards with their own spears, and the knock down drag out fight in the mud near the end, and when a would-be assassin gets checked by the cult leader's pike bearing guards. But this isn't an action movie, so those little scenes feel out of place. I guess it feels like a guy not too thrilled with the subject matter being overjoyed when he gets to depict the 'good parts.' I detected a lack of passion. I'm making it sound bad, but it's far from that. I just found my attention wandering a lot.

Day #24 – Seven In Heaven – OK this is a great premise. Two teenagers at a house party play the seven minutes in heaven game where they get randomly put together and shoved in a closet for seven minutes, only to emerge in a parallel reality where everything is different. But don't watch it. It took me a week to finish it. The mechanics of the universe hopping are nonsensical and somehow involve old fashioned nudie playing cards (not actually nude, because this is PG-13), the acting is bland (maybe a fault of the uninspired writing), and the plot is uninteresting. Seriously. It sucks. You got me again, Netflix.
Day #25 – The Witch In The Window – A man takes his internet-scarred son from his estranged wife in the city to the country to help him restore a rural home, only to find the previous occupant has not quite abandoned it yet. Very well done, introspective drama with fully realized characters and some bona fide creepy moments. Surprisingly warm familial message. Definitely a worthwhile watch this season.
Day #26 – Captain Clegg – This Hammer movie, also known as The Night Creatures, was billed as horror, but isn't in the least, unless it's in the Scooby Doo vein. Basically it's an adventure potboiler about the Navy using a deaf and dumb pirate to hunt down his old captain, who may be hiding in the peaceful island community led by a goodly parson (Peter Cushing) and haunted by these skeletal night riders that look a bit like the Cobra Kai on Halloween night.  It's fine, but 100% predictable.
Day #27 – Mr. Boogedy – A made for TV Disney movie about a novelty gag salesman and his family who move into a house haunted by Pilgrim-era spirit with a magic cloak and a young boy with a runny nose. Imaginative 80's style FX and a compelling central mystery, though the goofy humor wears kinda thin at times. I liked that the shop vac was  an instrumental ghost fighting device.
Day #28 – Castle Of Blood – Edgar Allen Poe convinces a skeptical journalist to spend the night in a haunted house where he witnesses its ghostly inhabitants reliving their final, violent hours…and there's something they desperately need from him. Sergio Corbucci and Antonio Margheriti bring forth a masterful ghost story dripping with mood and sensuous texture. Ingenious FX. I loved the 'breathing' corpse and black humor of the mercenary denouement, right out of one of Corbucci's spaghetti westerns. "I'm sorry, but I need to collect my wager. Now you can mourn." A brilliant Halloween watch.